Carol Delaney
Weston super Mare
BS23 2NF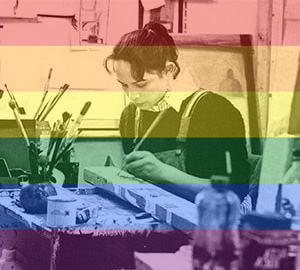 I've always been an observer, it's a combination of circumstances and inclination. At a very early age, back in the 1970's I identified myself as being transgendered. At the time this put me outside mainstream society and thus an observer, a watcher, a looker.
As part of a mixed-race family the urban sprawl of working class Birmingham provided a veritable melting pot of cultures and attitudes and inspired my early pallet.
All my art schooling was completed in London and then, due to the generosity of Tony Polledri I was lucky enough to open my first studio above his Bar Italia on Frith Street in the heart of Soho. The hustle, bustle, music, noise; the 20-hour people inspired energy kaleidoscope – what ambitious young artist could fail to respond.
My studio in Bangladesh showed me more colour, a measure of barely supressed chaos, with enviable opportunity to observe and draw from everyday life. The sense of never knowing what the next day might bring twinned with the very different gender dynamic encouraged a more adventurous approach.
During my 8 years in South Africa I was exposed to a joyful explosion of music, more colour and dance all being explored on the local multi directional art scene. I particularly responded to the ever-increasing sense of personal freedom. It gave me the confidence to explore paint in a more expressive form. I learned to look more and I learned to see more and I endeavoured to respond by expressing myself with more freedom.
My journey through very divers parts of the world, not as a tourist but as a working, learning and developing painter has been a mirror of my own journey that has confirmed my transgender identity. I have returned now to a very different England.
I am still an observer, still a watcher but what I see more clearly in England now is that we are in a state of transition and that is what I strive to capture in my work.